Wishlists
Our wishlists have been designed to allow you to manage your hobby any way you'd like, so what can you do with them?

Create Wishlist
You can create and name as many wishlists as you need to help organise your hobby. Make lists for each month, or a birthday list to share with family and friends, it's all possible. Just click on the orange "Create Wishlist" button, enter a name for the list and it's now ready to be populated. Wishlists will display their name, the number of items and the total value on this page too.

Adding Products
Adding products is easy, just click the "add to wishlist button" then select the wishlist you want, and click "add to wishlist". You can also create a new list from here if you need to.


Managing your wishlist
There are several things you can do to manage your wishlist and get useful information. Below you can see an image of a wishlist and a description of all the buttons.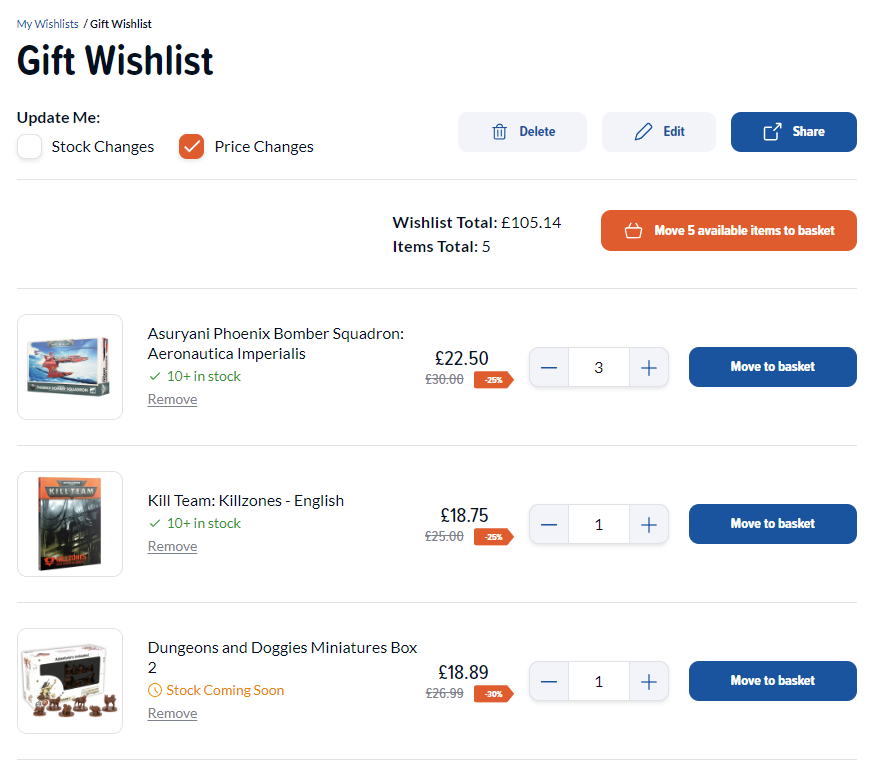 Stock changes - If you tick this box you will be notified by email when the products on this list come back into stock.

Price changes - If you tick this box you will be notified by email if the products on this wishlist drop in price.

Delete - This deletes the wishlist

Edit - Allows you to edit the name of your list

Share - Creates a URL for you to share with your friends and family so they can see your list. They will not be able to edit it, and if they buy something from the list it will not be removed automatically.

Wishlist Total - The total cost of the whole list

Items Total - The total number of items on the list

Move "X" available item(s) to basket - Moves all the items in the list to your basket

Remove - Allows you to remove an individual product line from the wishlist

"-" and "+" - Increases or decreases the number of that product on the wishlist

Move to basket - Moves that product line into the basket